Making a Big Mac at home and even better is easier than you think! Two patties sandwiched between THREE BUNS and layers of Big Mac sauce, lettuce, onions, pickles, and cheese – what could truly be better? It's juicy, saucy, comforting, and everything you want in the perfect burger!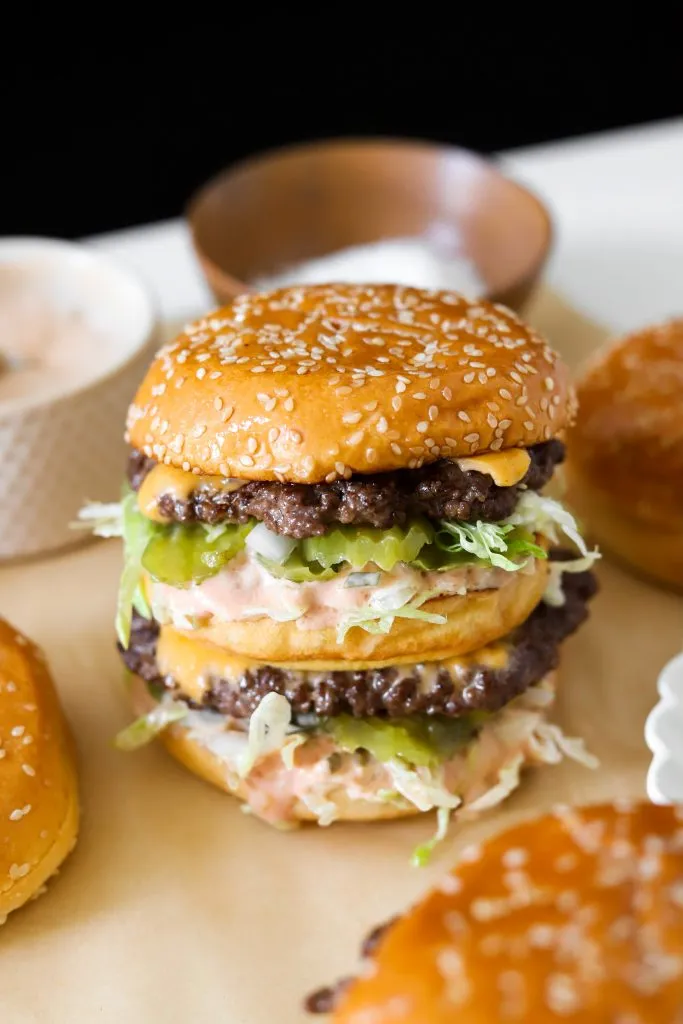 THE BIG MAC SAUCE
You can't have a Big Mac without Big Mac Sauce! That signature pink color is iconic and it is a lot more simple to replicate than you may think. Most burger sauces are very similar across the board actually. Here are the ingredients you need:
mayonnaise
ketchup
pickle relish
vinegar
sugar
That's it! Just those five ingredients. The ketchup gives the sauce the pink color. Mix everything together and you get a creamy thick sauce with specks of relish. It's a bit sweet, a bit tangy, and just an essential element in this burger.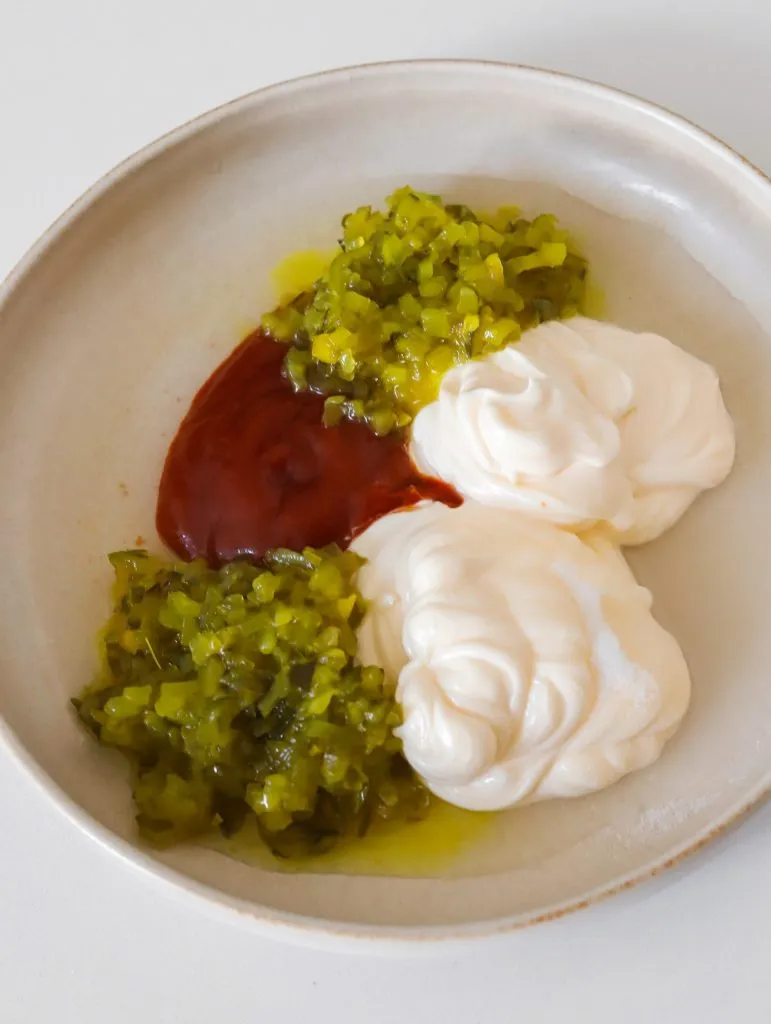 THE BUNS
Moving on to the buns! A classic Big Mac uses a sesame bun not just any regular burger bun. I chose to use brioche sesame buns for even more flavor but you can use a standard sesame burger bun as well.
Now another element that makes the Big Mac so unique is the three pieces of bread versus the two in a traditional burger! In between the two patties is another bottom bun so it basically feels like two burgers combined into one.
So for each burger, you will need two bottom buns and one top bun! Spread some butter on each bun and toast them on a pan or skillet over medium heat until golden and crispy on the edges and that's it for the bread.
THE PATTIES
When it comes to burgers, the fattier the better for ground beef! The lowest fat percentage you can get at the store is typically 80/20 so that's what I go for and what is recommended.
Divide the meat into 3.5 ounces patties. You can weigh it out for the best accuracy. I found this size to be the best for getting the thin patty McDonalds also does while still making sure it's as big as the bun I'm using. You do not want the patties to be thick because the burger already has so many layers going on and it can get very high!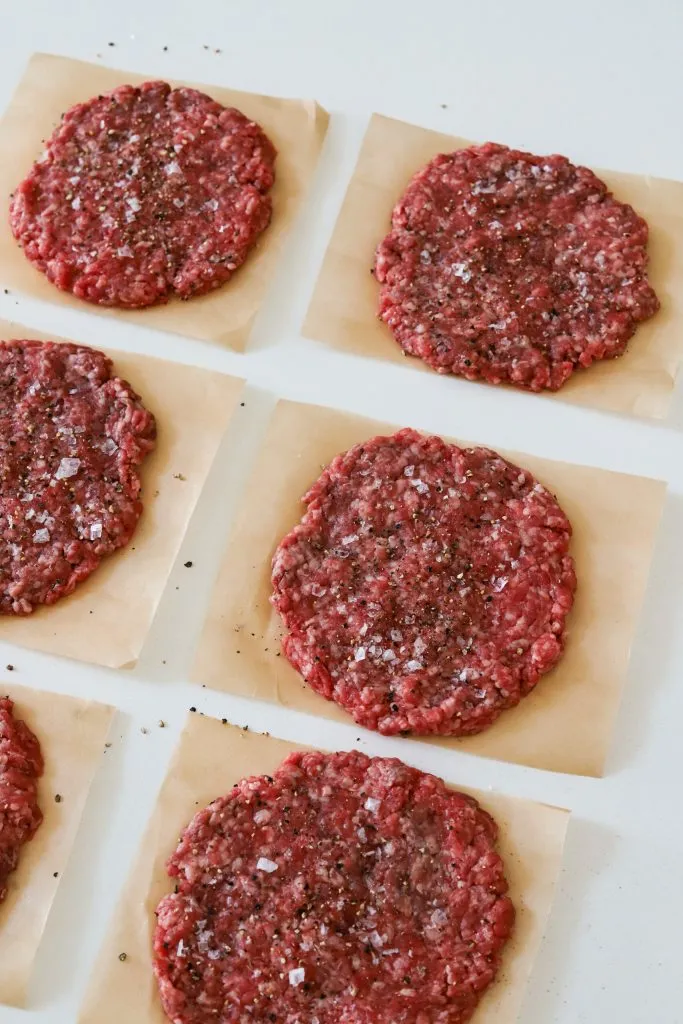 Once the patties are divided equally, shape them into balls and then flatten it out very thin and wide. The patties will shrink as the fat melts down and cooks so don't worry if they look too large. Salt and pepper then as well at this step!
Then it's time to cook the patties. A skillet or pan works well, just any flat surface that conducts heat well really. Get the skillet nice and hot over medium to medium-high heat. Once hot, add a bit of butter and oil to the skillet.
Add the patties, most pans will only fit two at a time unless you have a grill or large skillet plate. Allow one side to cook for about 2-4 minutes. If you'd like, add a bit of mustard on the raw side and spread around. This is actually something that in n out does but the flavor is so good that I do it with all my burgers now.
Then flip the burger over and the let other side cook for 2 to 3 minutes. Add cheese on top of half the patties you are cooking to let it melt as it finishes cooking and that's it!
ASSEMBLING THE LAYERS
What makes a Big Mac so special is all the layers going on! You have that extra bottom bun in the middles, two patties, lots of Big Mac sauce, lettuce, and white onion. It's definitely a thicker burger but that just means more flavor. Here is the order to assemble from bottom bun to top bun!
Bottom Sesame Bun, buttered and toasted
Big Mac Sauce
Shredded Iceberg Lettuce
Diced White Onion
Grilled Patty and Cheese
Bottom Bun, buttered and toasted
Big Mac Sauce
Shredded Iceberg Lettuce
Diced White Onion
Pickles
Grilled Patty
Top Sesame Bun, buttered and toasted
Now that's a big burger – 12 LAYERS!
Some variations you can try is making it a double double where you do two slices of cheese. A standard Big Mac only has one slice of cheese which goes on the bottom patty but if you love cheese, add to both of the patties! You can also go double on the layer of pickles.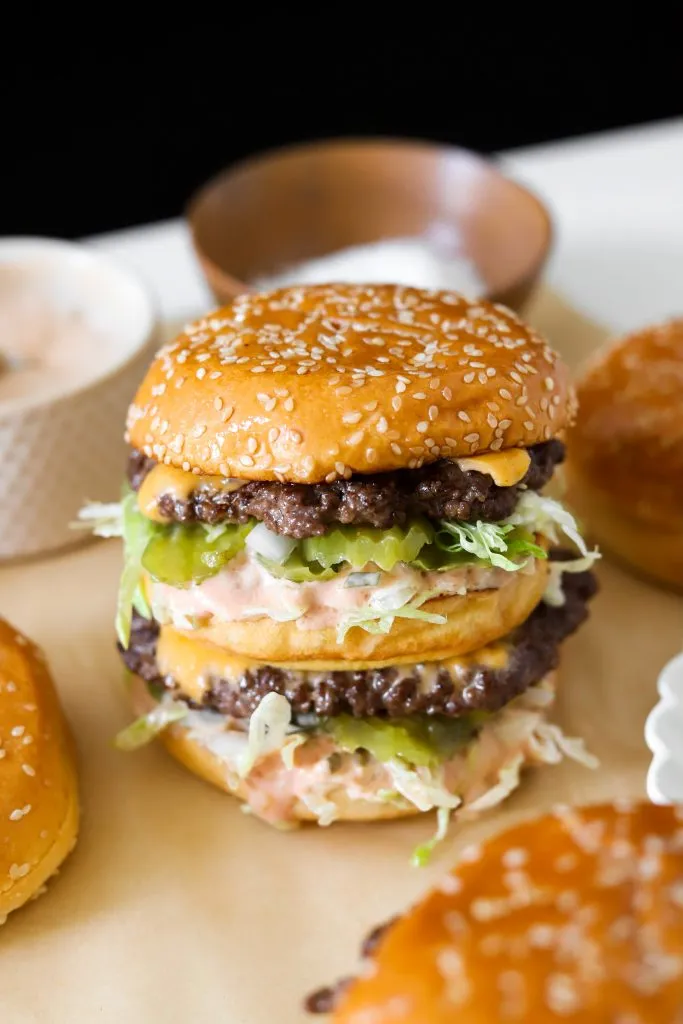 PREP TIME: 35 MINUTES
COOK TIME: 25 MINUTES
TOTAL TIME: 1 HOUR
YIELDS: 4 BIG MACS
INGREDIENTS
BIG MAC SAUCE
1/3 cup mayonnaise
4 tablespoons pickle relish, drained
3 tablespoons ketchup
1 teaspoon sugar
1 teaspoon white vinegar
FOR ASSEMBLY
8 hamburger buns, plus additional bottom buns for the middle bun
1/4 cup unsalted butter, softened
1 white onion, diced
dill pickle chips
shredded iceberg lettuce
PATTIES
2 pounds 80/20 ground beef
salt, to taste
black pepper, to taste
1 tablespoon butter, split in half
1 tablespoon vegetable oil, split in half
1/4 cup yellow mustard
8 slices American Cheese
INSTRUCTIONS
MAKE THE SPREAD
In a small bowl, mix together the mayonnaise, relish, ketchup, sugar, and vinegar. Set aside.
Weigh out 8 portions of 3.5 oz of ground beef or eye it out. Gently flatten the patty into a circle to desired thin or thickness, making sure to not mix or mold it too much. Sprinkle with salt and pepper on both sides. Set aside.
PREPARE THE PATTIESTOAST THE BUNS
Brush the insides of the buns with butter.
Heat a pan or skillet over medium heat. Lay the buns butter side face down. Take them off the pan when a nice golden brown develops around the edges.
Over medium-high heat in a skillet or pan, add 1/2 a tablespoon of butter and 1/2 a tablespoon of vegetable oil. Add the patties in, two at a time or more if you have a large grill/skillet. Add a teaspoon of mustard on the raw side and spread evenly. It will take about 2-3 minutes for the patty to get a nice brown crust. Flip over and add a slice of American cheese on top of half the patties you cook since Big Macs only have 1 cheese but 2 patties. Let it cook for about 1 more minute for the cheese to melt. Take off the heat.
COOK THE PATTIESASSEMBLE THE BIG MACS
To the bottom bun, add sauce, lettuce, onion, patty, and cheese. Then add the middle bun, sauce, lettuce, onion, pickles, and the second patty. Add the top bun.
Enjoy warm!