If you love Persian food and have been wanting to learn how to make it at home, this Beef Koobideh is going to blow you away! It tastes exactly like the koobideh we get from Persian restaurants, incredibly juicy and flavorful. The best part is no BBQ necessary!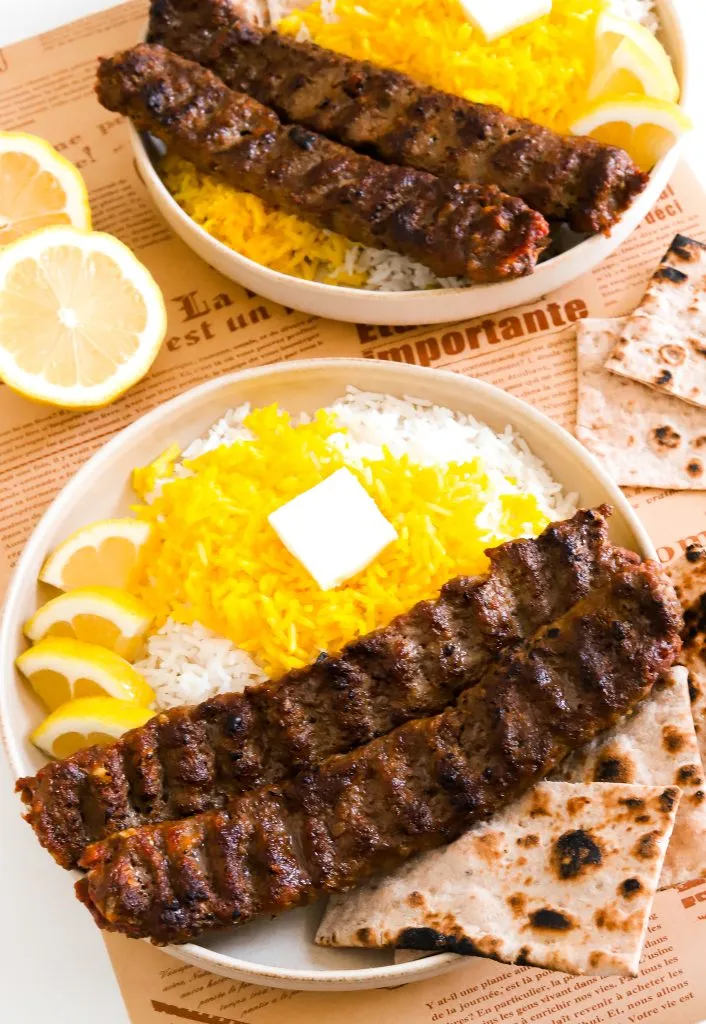 THE SAFFRON
Saffron, also known as threads of gold, is such a unique ingredient that is needed for a lot of Persian recipes like this Beef Koobideh and Chicken Kabob recipe already on the blog. I love that Persian food uses a lot of saffron because Moroccans use it in their cuisine a lot so I'm very familiar with and adore the taste.
You can find saffron at most supermarkets, Trader Joe's even sells it! It will be the most affordable though if you buy it from a Middle Eastern market.
Start out by adding a pinch of saffron threads on a bowl. A little goes a long way with saffron. Crush it with a mortar and pestle to almost turn it into a powder. Add a small handful of ice cubes to the bowl and allow it to rest. As the ice melts, the saffron will steep into a beautiful rich color. I used to always use hot water but a lot of you told me to do ice instead for a stronger flavor and y'all were not wrong! The final color result was so rich. Reserve the saffron water to add to the meat in the next step!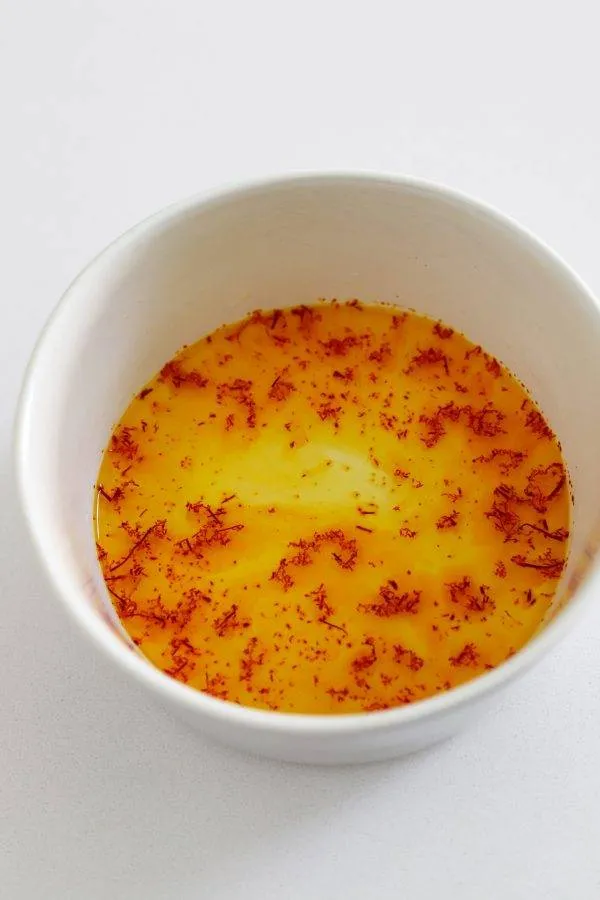 MAKING THE MARINADE
Now that the saffron water is ready, let's make the marinade. I like to combine everything in a small bowl first and then add it to the meat so everything is evenly incorporated rather than adding each ingredient to the meat.
HERE ARE THE INGREDIENTS YOU NEED:
yellow onion, grated & squeezed
minced garlic
saffron water
coriander
salt
black pepper
turmeric
smoked paprika
For the onion, start off by grating and squeezing it. You can use a kitchen towel to drain the excess water from the onions, it's ok to leave some of the water. I did not squeeze it all out. You can also add it into a food processor but make sure NOT to over blend it. It needs to be chunky, not a puree!
Then to a small bowl, add the onion, garlic, saffron water (1/4 cup), coriander, salt, black pepper, turmeric, and smoked paprika. Mix together well and add it to the ground beef in a large bowl.
Make sure you pick ground beef with a high-fat percentage, 80/20 is the best to use! The fat is what will keep the koobideh nice and juicy.
Along with the marinade and the ground beef, add a bit of ghee to make the kabob even more
THE SKEWERS
The most important part about making koobideh at home is that you need a very specific kind of skewers that they used in Persian restaurants and in Persian homes for BBQ. What makes them special is that they're wide and flat just like the shape of a koobideh. The unique shape of the skewers allows you to flatten it out wide and long without the meat falling off.
I purchased mine off Amazon in a pack of 8. I've used them a few times now and have loved them! I'm also buying a set for my family because my mom has been wanting to make Persian Kabobs at home too. You can find and shop them at this link too.
SHAPING AND COOKING
Shaping the skewers takes a little bit of practice but once you get it down, it'll be so easy! There is also no need to worry because if you fail, you can just take the meat off the skewer and restart as many times as you need until you get it right!
The technique is to grab a handful of meat and press it along one side of the skewer and start to elongate it up and down until you have the desired length. You have to make sure there is not too much meat or thickness along the skewer or it has the potential to break apart.
Once you have the desired length of koobideh on the skewer, it's time to shape it into the signature design. Use one hand to hold the skewer at the bottom and the other hand to start from the top shaping. Pinch with your thumb to press down and up while wrapping your other fingers around to pinch the meat and repeat that motion moving down the skewer.
We are going to make these in the oven but if you have a BBQ without a grill plate, you can also do that too. Pop the skewers in a tray that allows the meat to not be touching any surface. It needs to be rising above. Transfer to the oven and cook for around 10 to 15 minutes until done in the center. To get it a bit charred on top, broil it at the end for a few minutes, watching it closely.
Then take it out of the oven and serve it with basmati rice, lemon wedges, butter, and sumac to enjoy!
PREP TIME:
45 MINUTESCOOK TIME:
15 MINUTESTOTAL TIME:
1 HOURYIELDS:
8 KABOBS
INGREDIENTS
2 pounds 80/20 ground beef
2 tablespoons ghee
1 whole yellow onion, grated
1 tablespoon garlic, finely minced
1 teaspoon saffron, crushed
1/4 cup ice cubes
1/2 tablespoon coriander
1/4 teaspoon turmeric
1 teaspoon black pepper
1/2 tablespoon salt
1/2 tablespoon smoked paprika
INSTRUCTIONS
Crush the saffron in a bowl and add a small handful of ice cubes. Allow the ice to melt and steep the saffron until the ice is fully melted.
To a bowl, add the grated onion, garlic, saffron water, coriander, turmeric, black pepper, salt, and smoked paprika. Mix together.
Add the ground beef to a large bowl and add the marinade along with the ghee. Mix together well until homogenous.
Preheat oven to 450°F.
Shape the seasoned ground beef onto the skewers and elongate them so each kebab is about 8 to 12 inches long. It depends on you to make them as small or as big as you want.
Then use one hand starting at the top to press down using your thumb while pinching the rest of your fingers on the side to create little bumps along the kabob. Repeat this motion moving all the way down. Repeat with the rest of the ground beef.
Place on a tray that is lined with parchment paper.
Bake in the oven for 10 to 15 minutes until cooked through.
Change the oven setting to broil for a few minutes at the end to get the top a bit charred for that BBQ effect.
Serve with basmati rice, sumac, and butter to enjoy!